For some reason, the forum wouldn't let Shaddow post, and he's not forum-banned, so here's the thread so he can post it. Ta da!

---

Shaddow's Post:
"Datchu... datchu.... datchu.... datchu... datchu..." went Mika. She was jumping on worms, making her own sound effects. It rained yesterday, so the ground was fairly wet, and all the little critters were fleeing up out of the sidewalk. "Ewww!!" on contact with Mika's shoes, one worm burst. Must have eaten something.

This was a rather calm residential area, and Farmland. Houses on Mika's right looked mostly identical except with different paint on the outside walls, and different numbers on the doors and mailbox's. The Farmland on Mika's left was vast, expansive, and from the point where she was standing looked like green hills out forever, before the fence, of course.

"Sploosh! Fash fash fash fash fash!!" Mika hopped off the sidewalk and into the street. She started running through puddles, holding her arms out to her sides, smiling with her eyes closed. She ran straight down the street, pissing off two drivers behind her.

They honked their horns angrily, then gave up as a streetlight in front of them turned red. She ran into somebody walking on a crosswalk, knocking the both of them to the floor.

"WATCH WHERE YOU'RE GOING, ASSHOLE!" screamed Mika, right in his face, pinning him to the ground.

The horrified man hadn't any idea what to say.

Mika got off, immediately picked him up, held him over her head for the moment, then threw him right across the intersection, at Qariel, whom just happened to be walking out of a Gas Station, with a Bag of Pretzels in his hand.
~~~~
To the east Of this Intersection: Houses.

North East: Shopping center, then a long drive to nowhere.

South East: Housing.

South West: A nice 40 foot slope, which is so steep it's more like a drop, followed by a ton of farmland.

North West: A chain linked fence, with a bunch of Power Plants, and production centers, behind it.

50 Miles in Any Direction: A big drop to the world below.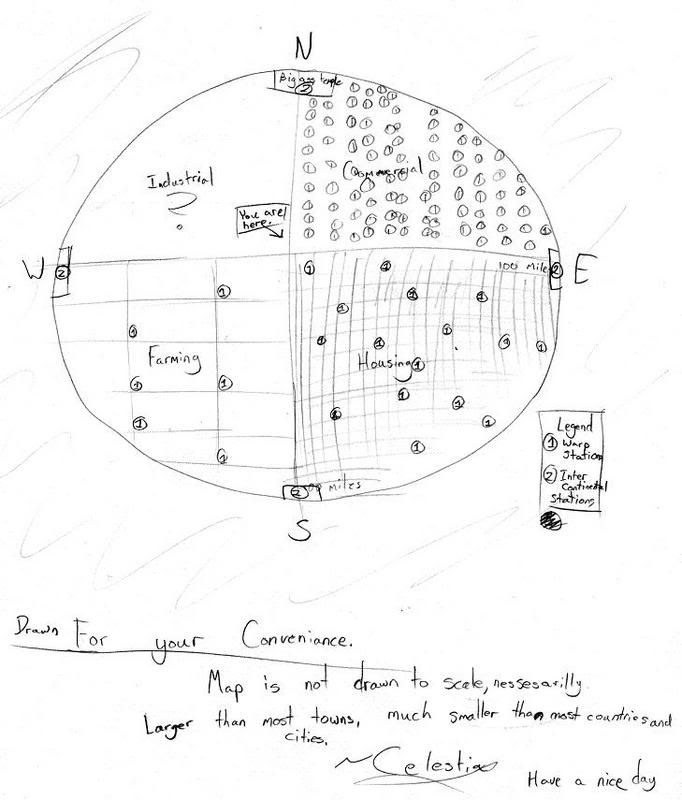 ---
(Last edited by Cairoi on 02-19-07 07:33 PM)